| | |
| --- | --- |
| | |
| | |
| --- | --- |
| | |

Please follow through this set of screen shots to show how British Airways' promise of a $288 fare ends up as costing a minimum of $801, and even at this inflated price, was only available for travel to Britain on two days.
This is discussed and analyzed in our article British Airways Fare Sale : Lazy Website Programming? Or Bait and Switch? - these screen shots are merely the proof of the reality gap between promise and reality.
We all know that airfare sales can sell out, and if we're reading an ad in yesterday's newspaper, we accept the outcome if we call the next day to find the seats have all gone. But here's an airfare sale being promoted live on a website, with dynamic pages that are automatically updating and refreshing their content every time they are loaded. How can these pages contain information that is simultaneously different to that offered in the air fare sale, and also different to the reality of the fares displayed on the pages?
The Screen shots were all taken on Tuesday 15 March, mid morning Pacific time.
This is the first of three pages of screen shots, following through the steps I took to check every date in March and April for the low fares as advertised/promised. Page 1 Page 2 Page 3
UPDATE 11 April 2011 : I repeated the process and again found a discrepancy between the promised lowest fares for travel in May ($366 each way) and the actual truly available low fares ($379 and upwards). Two pages of details and screen shots here.
1. BA's initial offer. I have already selected Seattle as my starting city, and it advises a special of $288 each way based on roundtrip (I guess there's a reason they can't bring themselves to actually say '$576') and of course the 'Taxes and Fees extra'.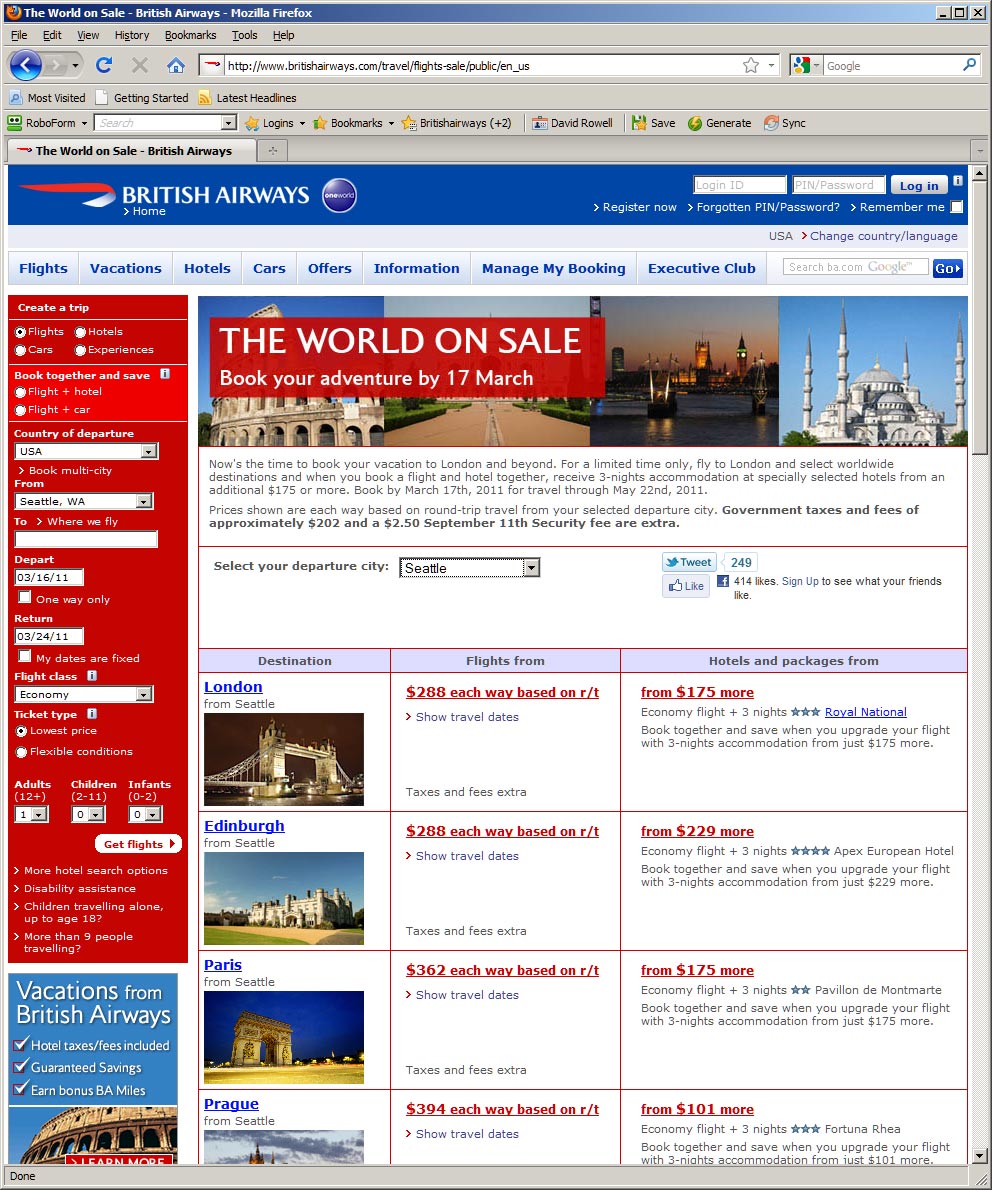 2. Great. So let's try to get a fare at this price. I click on the link to show travel dates, but rather than getting a list of travel dates available, I get a disappointment. Ooops, There's only a few weeks I can get the fare at this price, then the fare goes up.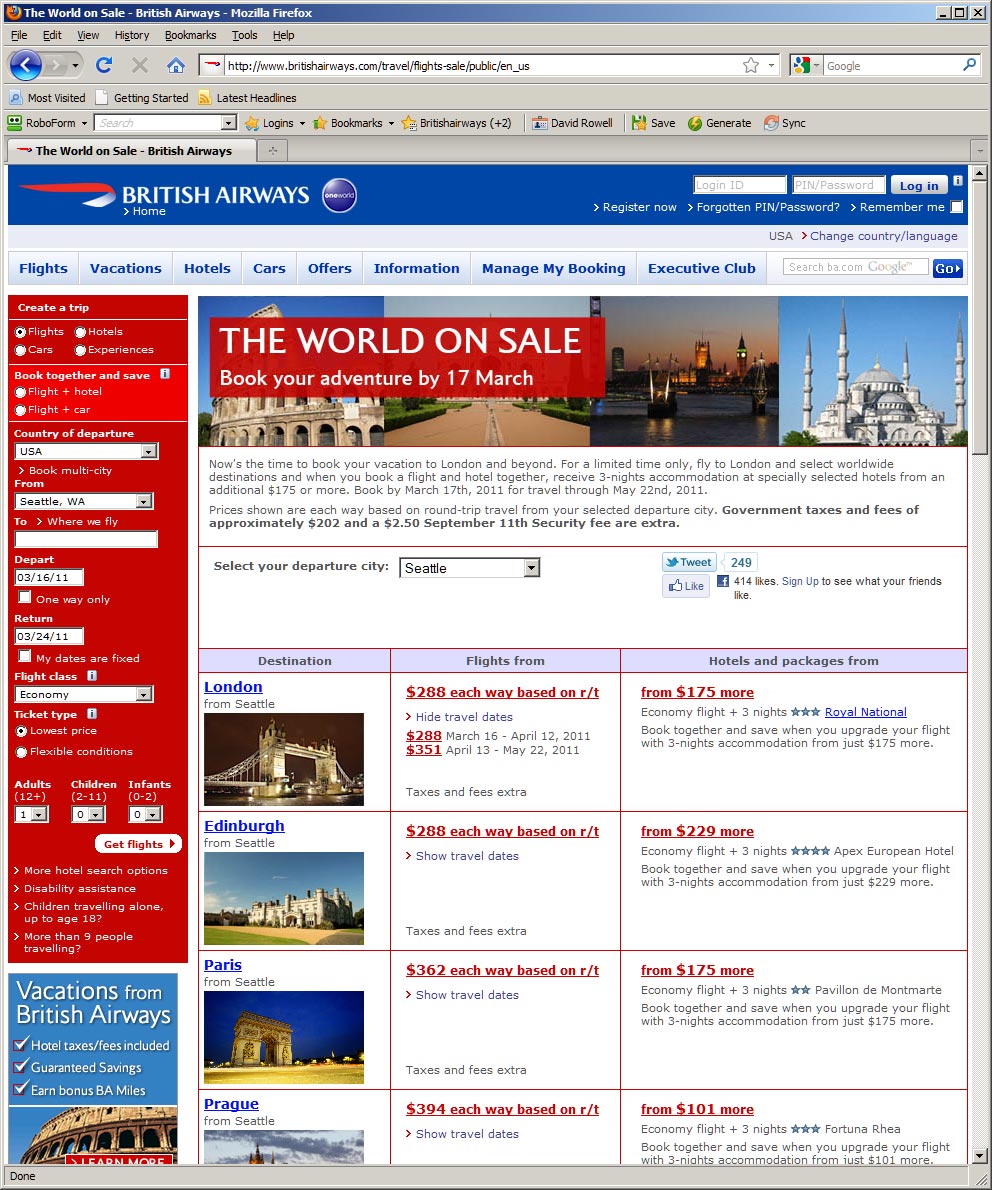 3. Oh well, so I have to scramble to urgently book and buy a ticket. No worries. I've done that before. So I click on the $288 link and get taken to another page where I have to annoyingly tell BA for a second time I want to fly from Seattle, and it asks me to select travel dates. I do so, as you can see below.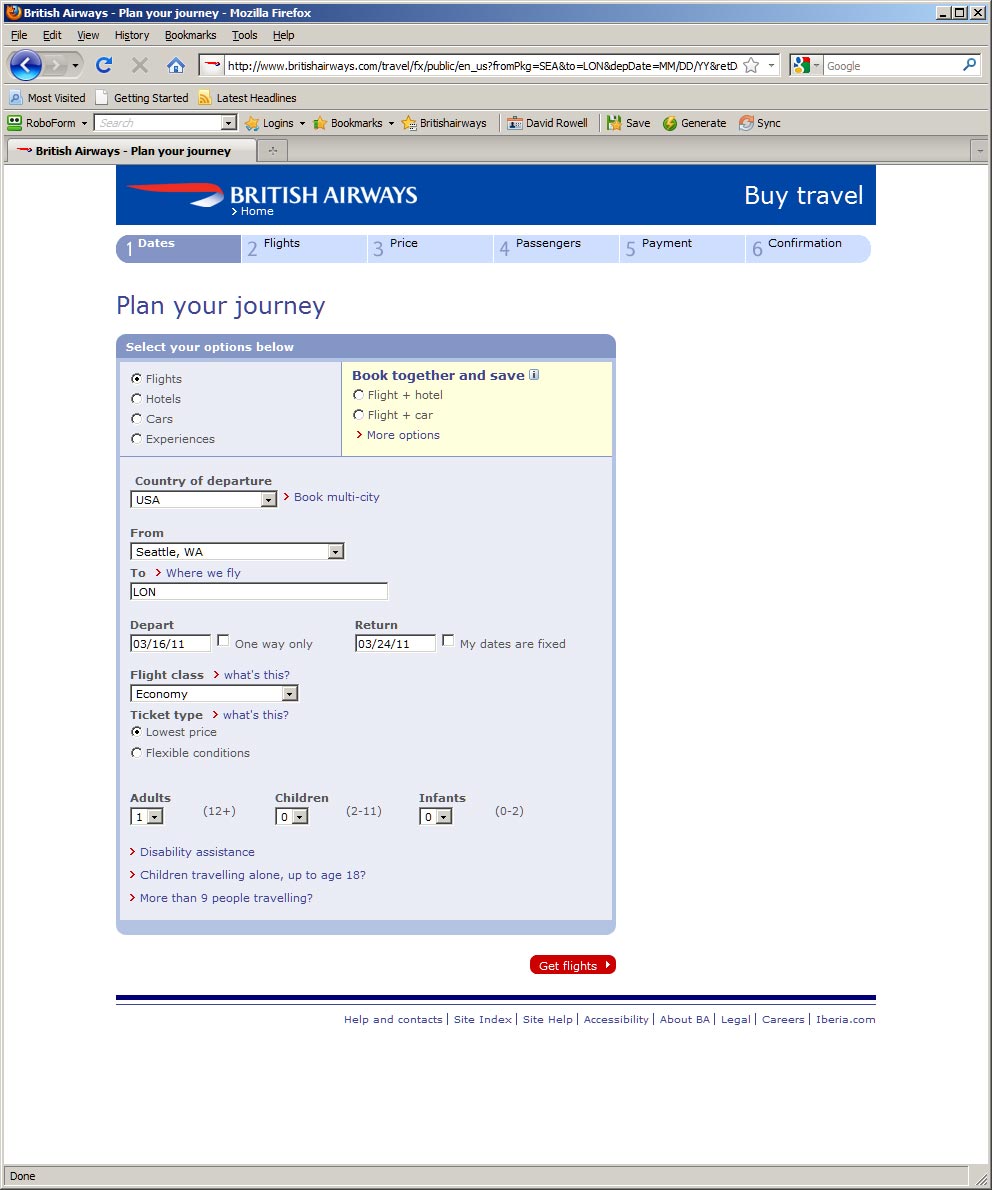 4. Now for the cross-your-fingers moment. I click on the Get flights button, and what do I see? Well, to get an answer to that exciting question, please travel on to the second page of screen shots here.
Related Articles, etc