[Web version of this newsletter] [Newsletter Archives] [Website Home Page] [Please Donate Here]

2 June, 2006
Good morning
Our annual fundraising drive has now completed its third week. As of Thursday evening, a total of 408 kind readers have chosen to support the website and weekly newsletter.
This is a great number, with readers from all around the world helping out, including as far away as my home country of New Zealand. I also very much appreciated people from countries where English is not the first language joining in - many European countries have been represented, even countries as small as Belgium. We almost had a reader from Andorra (but Paypal wouldn't accept payments from Andorra, so that one goes into the 'it is the thought that counts' category.
Contributions ranged all the way from small amounts up to staggeringly generous sums. All are very much appreciated - thank you one and all.
In total the numbers are similar to last year. I had been hoping for 500 readers to respond this year, to maintain the same proportion of readers who choose to support as last year, and so I'm keeping all the special offers available (we still have supplies of all the gifts) as an inducement for any people who may just now be thinking about contributing. It is never too late to help out!
We're now entering this year's official hurricane season, and with that in mind I offer you :
This Week's Feature Column : Emergency Self-Powered Radio : Here's an emergency AM/FM/SW radio that generates its own power. A built in flashlight and alarm, plus the ability to recharge most cell phones makes this a great piece of your emergency kit, whether you're in a hurricane area or not.
I wrote last week about a new website currently in Beta testing - Farecast. This new service tells you whether air fares are likely to increase or decrease, helping you to know if you should buy your ticket now or wait a bit longer. The Beta test currently covers flights originating in Seattle and Boston only.
They've now given me 25 Beta Tester accounts to pass on, so if you'd like a beta test preview of this fascinating new service, you're welcome to ask me for one. Because I have only 25 of these accounts, and I'm sure they will be popular, I'm offering them to people who have responded to this year's fundraising drive only - first come, first served. Let me know if you'd like one.
Dinosaur watching : A Boston man is suing United Airlines for not only losing his luggage but for related business losses. The small business owner was taking part in a trade show in Phoenix and all his materials were in checked luggage so he ended up with nothing for his booth. His luggage was found in Chicago and the airline promised to deliver it to Phoenix, but never made it there. Instead, he found it waiting for him on his doorstep when he returned home to Boston.
United offered him a $300 credit towards a future flight which he declined. 'Its just not OK to not have responsibility for doing what your customers pay you to do,' the man said.
We wish him luck with his lawsuit - he'll need it because, alas, his chances of winning are very limited. Most airlines give themselves blanket immunity from liability in such situations as part of their standard 'Contract of Carriage' - a contract you're assumed to have read, understood, discussed and negotiated with the airline, and then accepted as binding on you every time you buy a ticket.
Industry darling JetBlue massively fell out of favor after losing money late in 2005 and again in the first quarter of 2006. But showing how investors have no concept of longer term issues, JetBlue is already returning back to favor once more, with Merrill Lynch this week upgrading the airline from 'Sell' to 'Neutral', saying 'We think the JetBlue franchise is a solid one but one that is experiencing growing pains. However, we view these problems as temporary and think that the company is taking steps to resolving the key issues.'
Here are some words to remember and quote back when the time comes - if it ever does. After first admitting that the possible new airline, Virgin America, is unlikely to now start service in 2006 (something I've said all along), their President described what to expect from the airline when/if it ever does start operations. He said tickets will cost 30% - 50% less than competing airlines.
I say this is a nonsense claim, and no more likely to prove true than their earlier promises to start service in 2005 and then subsequently in 2006. Maybe selected low fares might be 30% - 50% lower than selected high fares on other airlines at present, but for sure, when Virgin America finally does get a plane with passengers into the air, and if competing airlines take Virgin America seriously, they'll of course lower their fares to close to or the same as Virgin's fares. Furthermore, with average ticket prices so close to the operating costs of all airlines, it is not possible for any airline to discount by this sort of margin and still hope to make a profit. Virgin can not sustain a pricing policy of beating the competition by 30% - 50%.
But maybe Virgin America lacks the vision to foresee such a pricing response by their competitors. Apparently the completely unsurprising objections filed by existing dinosaur carriers took it by surprise, because they're now blaming their inability to get approvals in time to start service this year on these objections. For sure, some of the objections may be thin on substance, but there was every reason to expect they would be filed.
The dinosaurs have shuffled their positions a bit, with Continental displacing Northwest to now be the nation's fourth largest airline. American holds steady at number one, followed by United and Delta.
Northwest's position, now at number five is further threatened by Southwest, which could displace it, pushing Northwest further back to number six.
Some stories seem to get a life of their own, and keep on reappearing. One such example are the prognostications of a terrible traveling experience this summer due to record numbers of passengers, fewer numbers of airline employees, and fuller than ever before planes, with airports, parking, and the air traffic control system all creaking at the seams.
I promise this will be the last story I'll quote on the topic (well, at least for a week). It does offer some interesting statistics.
Do you remember back to the days before airline alliances? I've often referred to code-sharing as a way airlines bamboozle the seemingly simplistic anti-competition watchdogs; well, think of the major alliances - Oneworld, SkyTeam and Star - as being code-sharing on steroids.
There are now three major alliances, and they seem to be inexorably devouring all the world's airlines between them, leaving only very few independent non-aligned airlines - even Aeroflot has been welcomed into the SkyTeam alliance.
But in surprising news this week, a Oneworld member announced its plans to abandon its alliance links. In an announcement that makes no sense and carefully avoids revealing the real reason, Aer Lingus said its strategy has changed fundamentally since joining the alliance, and dissed Oneworld as having a 'key target market of the multi-sector, premium, frequent international traveler, while Aer Lingus has repositioned itself as a low fares point-to-point carrier'.
In reality, a point to point carrier benefits even more strongly from people flying multi-stop itineraries - that way they stand to pick up some of the legs of the itinerary which otherwise would completely pass them by. The smaller the airline, the more benefit in joining forces with other airlines. And who has ever seen an airline refusing to accept premium passengers and the premium fares they pay?
The impact on Oneworld? Almost zero. Aer Lingus is currently the smallest airline in the alliance, and by the time it departs, three new airlines will have joined - Japan Airlines, Malev Hungarian and Royal Jordanian, with still more airlines looking at joining. Oneworld will still service Ireland through its other member airline flights.
Last week I wrote some comments critical of South African Airlines. Was it just a coincidence that - for the first time I'm aware of - their email server's spam filter intercepted my newsletter and prevented it going on to readers at that airline, I wonder?
Here's an apparently stupid idea - some airports are now offering the ability to research fares and schedules through their websites. The reason it is stupid? At least in the case of the information offered to you by Cleveland Airport's website, the data displayed is not 'real time' data taken directly from the airlines or from a regular computer reservation system. Instead, it is batch updated 'numerous times throughout the day' - Murphy's Law being what it is, the chances of thinking you've found a really good deal, or a seat on a full flight, only to find that the fare or seat had actually gone an hour or more before, seems to be unacceptably high for most of us.
Taking almost as long to build as a new airport, Berlin's new central train station, Hauptbahnhof, opened this week. It is the biggest train station in Europe, and was planned shortly after the Berlin Wall fell in 1989, with actual construction taking 11 years.
There's a bit of a bun fight going on in Russia at present between Boeing and Airbus, each trying to secure an order for 22 planes - either the 787 or A350. And so, to further its cause and add pressure to motivate the Russian authorities to decide in its favor, Boeing announced this week that it may invest $27 billion in Russia.
This would be unprecedented if true, and an investment on a scale never seen before. To put such a number in perspective, this is about three times the total cost of launching their new 787 series of planes.
But this extraordinary 'investment' turns out to be anything but. First of all, note the word 'may'. We may all be struck by lightning today. Boeing may invest in Russia. That's hardly a contractual commitment.
Secondly, what exact form does this investment take? Oh - purchasing components for future Boeing planes, mainly titanium, and contracting with Russian companies for various design services. Russia's dominance in the supply of titanium and its ability to provide state of the art design services for pennies on the dollar compared to the costs for similar work in the US would, of course, have no impact on Boeing's decision to make these investments.
Thirdly - is there an accountant in the house? Because if there is, you'll be pointing out to Boeing that buying consumable goods and services is not an investment. It is not a capital expenditure that creates a thing of lasting value. It is simply a revenue cost.
Fourthly (!), this 'investment' (which isn't really an investment at all and which might never take place, and which, if it does, is hardly based on altruism on Boeing's part) is projected to occur over a 30 year time frame, making it unexciting and even less tangibly real today.
Let's hope, for Boeing's sake, that the 787 is able to win on its own merits, because the carrot of this $27 billion 'investment' is laughably weak.
I happily wrote last week about Texas increasing its speed limit to 80 mph on 500 miles of its freeway system, and expressed pleasure at how the 55 mph speed limit is now a thing of the past.
Or is it? Potential Presidential candidate, Mrs Clinton, was quoted just a week ago advocating a return to 55 mph. Showing that she too has a fine grasp of nuance, she said it should be brought back for 'most of the country' and wherever 'people will accept it'.
In other road news, there is a growing trend to require people talking on cell phones in cars to do so only if using a hands-free device. But the town fathers in Lawrence, KS are proposing to ban all cell-phone use completely while driving. Zero tolerance comes to cell phones.
The most sensible comment about this proposed new law comes from T-mobile. A spokesman said 'We think there are distractions just as great. I suppose if you also want to ban McDonald's coffee and kids in the back seat, then we wouldn't oppose it.'
But - be careful what you wish for, because you just might get it. As this article explains, Scotland is about to levy the same heavy fines on people caught smoking in their cars as they currently do on people not using hands-free devices with their cell phones. Brazil has already banned smoking in cars, and Germany is considering the same.
Not to be outdone, Australia is considering banning not just smoking but also eating and drinking.
And Sweden is restricting the use of cell phones on public transport.
If you want to know what is likely to happen in the US telecoms industry in the next few years, simply look at what is happening to the industry in other countries today. A case in point - and marking the start of a necessary trend - is shown by the European company Orange, that will now offer regular landline phone service, mobile phone service, internet access and television programming, making it a truly one-stop communications shop.
Expect to see similar consolidation, and in the US too, as best the FCC regulators may permit.
Meanwhile, the IPO of VoIP pioneer Vonage continues to run into problems due to its dropping share price. This article recounts the latest problem, but - to my mind - wrongly attributes the weakness in Vonage's stock pricing to customer service issues.
As I've said before, the problem with companies such as Vonage is that VoIP pricing is trending down to zero (as witness Skype, now offering free unlimited calling within the US and Canada for the balance of this year), and this leaves no opportunity to make a profit. And Vonage's business plan, which apparently says the company may never become profitable, surely doesn't encourage a potential investor either.
I quoted a reader writing about his Carnival experience last week, and Donna wrote in with another Carnival experience. Because it is so rare to get a good news story, here it is in full :
We were on a Carnival Cruise a few years ago and got a call that my grandfather had passed away. I went to the desk and asked if there was anything they could do to help my family get home. We had just docked in Mexico, so they said they would find us a flight and said we could go back to our cabin and pack, they would make all the arrangements and call us when they were ready.

We went back and soon after they called and said they were ready. They had someone pick us up, escort us and all our bags past the folks trying to go ashore, handed us off to a driver who had our plane tickets and took us to the airport and made sure we got checked in.

We made it back to Miami and got to the abandoned port around 1 am, but they had given us a number to call to bring somebody to the lot to unlock it so we could get our car out. We got our car and were able to drive back overnight.

I was so traumatized over the death, I didn't care how much it was going to cost and knew I was probably going to be paying this off on my credit cards all year. I would have paid ANYTHING for this to have my family home at this time, but we were charged NOTHING for this unbelievable level of care, concern and customer service. In addition, Carnival REFUNDED the unused portion of our cruise, crediting back my credit card.

I was shocked, we did not have any type of travel insurance (I know, not smart, I learned since anything can happen) - they did this as good will and I think may have used their first port of call guarantee to justify it. I have never before, and never since received such incredible service from any travel company, so whenever I hear someone say anything bad about Carnival I just have to speak up - I guess they were smart enough to get their money back that way!
This Week's Security Horror Story : A weapon of mass destruction was found in a Waldo FL retail store this week and investigators say this was a clear act of terrorism.
Was it a nuclear bomb? Anthrax? Poison gas? Was this something plotted by Al Qaida? Muslim suicide bombers? And why didn't this attack on the very fiber of America's homeland make headlines across the country?
For answers to all these questions, see this article. Have the Alachua Country Sheriff's staff taken leave of their senses?
But perhaps in an age where construction noise around the nation's capitol can lock down all public schools in DC, this is only to be expected.
The US demand that European airlines should release 34 different pieces of personal information on all people flying to, from, or over the US (even if not stopping) has been declared illegal by European Court judges. The sharing of this data will end on 1 October 2006, and US authorities are warning of 'serious delays' for passengers flying to the US from Europe subsequent to then.
Chances are a face-saving compromise will be worked out prior to 1 October.
The idea of a travel ID card for citizens of the US and Canada has been delayed until (at least) June 1, 2009. The ID card was proposed as an option instead of a passport, which will otherwise become mandatory as from 31 December 2006. The card was (is) expected to be less expensive, and perhaps easier to obtain.
Monty Python fans will instantly remember the classic cheese shop sketch. John Cleese goes into a cheese shop but no matter what type of cheese he requests, the cheese shop has none in stock. If you think that sounds like fun, you too will be able to star in your very own cheese shop joke, by visiting one of the new Dell retail stores.
These stores, ostensibly to sell Dell computers, won't actually stock any of them. You'll have to mail order one and wait for it to be built and shipped to you from somewhere in Asia, same as is the case at present.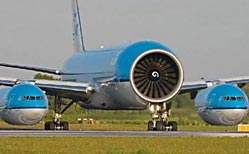 I mentioned Boeing's $27 billion investment in Russia above, including the hiring of some design expertise.
Perhaps this is a sneak preview of one of the new plane designs we might see forthcoming from this new partnership.
And/or, perhaps it was designed by very health-conscious male designers.
Lastly this week, if you've enjoyed your read through the 3210 words of the newsletter this week, please consider supporting this worthy publication and project.
Until next week, please enjoy safe travels