Moscow - and all of Russia, of course - is full of bewildering contrasts. For example, during my August 2003 visit to Moscow I went riding at a stables.
The riding area was a rough muddy field, with assorted items of industrial waste strewn haphazardly in the mud, and massive ruts worn deep into the ground where the horses had been training in circles on longe lines.
The rather ramshackle stables were managed by a drunkard who on this occasion was so drunk that even my Russian companion had no idea what he was saying, and he lives in a dirty tack room that is used by the stables riders to store their saddles, bridles, etc, in the stables, having no apartment of his own. All in all, a picture of semi-third world squalor.
But.
Around me were world champion horses, some worth over a million dollars!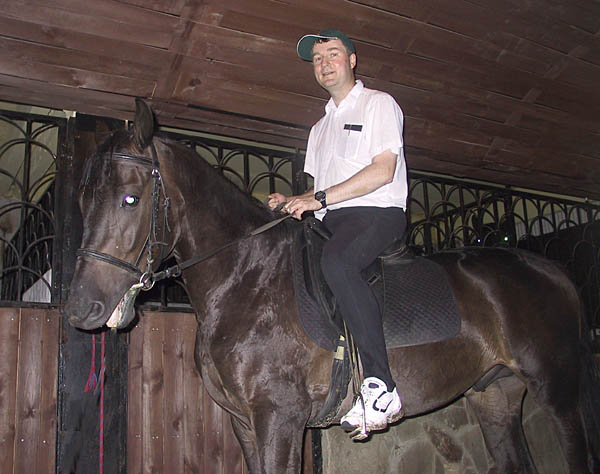 I hasten to add that the horse I'm on here is not one of the million dollar horses. However, this gelding is still considered a likely Russian National Champion in another year or so - but it will only have a chance of winning if I am not its rider!
Originally written 3 Sep 2003, last update 21 Jul 2020
Copyright 2003 by David M Rowell.
You may freely reproduce or distribute this article for noncommercial purposes as long as you give credit to me as original writer.