Good morning, and very best Valentine's Day wishes to you all. Your presence on my list and your kind words of encouragement are much appreciated, today and always. Thank you.
I hope you managed to take advantage of the incredible BA deal if it was of interest to you. Comments back from you about receiving this bonus email were unanimously positive, and so I'll send out other special bulletins, from time to time, if other short term super deals come along.
BA's low fares almost created a 'mileage run' situation - where a person buys and travels on an unnecessary ticket purely to get the frequent flier miles at below 'normal' cost. With 10,000 or more miles being earned on a roundtrip from the west coast, and a fare of $198, that is under 2c a mile - a heck of a deal. Unfortunately, the massive $100 in taxes then pushes the cost up to a less appealing 3c a mile, so while it doesn't make sense to fly the itinerary for miles alone, it sure does mean that the net cost of the ticket, after allowing for the value of the miles that can be applied to future award travel, is very close to zero!
With the thought of frequent flier miles fresh in my mind, it seemed appropriate to write about some attempts to change key parts of frequent flier programs for this week's column. And so -
This Week's Column : Don't Do It, Delta! : It is one thing to preferentially reward one's 'best' frequent fliers, but it is an entirely different thing to penalize other frequent fliers. Delta's recent changes to its frequent flier program have a major sting in their tail that we must not allow to continue. This week's column suggests what you should do in response.
Not all airlines are tightening up their frequent flier programs. In a very generous and patriotic gesture, Northwest Airlines has chosen to allow all National Guard and military reservists who have elite status to extend this for an additional year if they are called for extended active duty. Thank you, Northwest.
To also give Delta some praise where it is due, they have set themselves a two minute checkin target so that, at 81 of their airport locations, no e-ticketed and self-checking in customer will have to wait in line for more than two minutes, 'even during peak times', according to Rich Cordell, their senior vice president, Airport Customer Service. That is amazing. With no more than 2 minutes to check in, and the TSA's no more than 10 minutes to go through security, maybe we'll soon be back to not needing to arrive at the airport no more than 20 minutes prior to departure. Maybe.
America West suffered a setback to its operations on Monday when it announced it will close its hub in Columbus, Ohio. Its 49 daily flights out of Columbus are being reduced down to four. This leaves it with two western hubs (Phoenix and Las Vegas) and no hubbing further east at all. While of course no airline should continue chronically loss making operations, haven't you noticed how many of the major carriers seem to be focusing not on correcting the causes of the losses, but instead simply on closing down routes that were once profitable and which surely could again become profitable if appropriately managed.
Two days later Delta announced it would add eight new flights a day out of Columbus.
Qantas announced that it will start charging a 1% fee to its Australian customers who choose to pay for their tickets by credit card. Surely the costs to Qantas, if accepting 'old fashioned' cash payments for each ticket, by hand, would be comparable to the 1% extra fee it is now charging to electronically and automatically process credit card payments - this is yet another example of an airline disguising a simple fare increase as a fee. Question to Qantas : How exactly can a person buy a ticket these days - especially if the fare rules require instant purchase at the time of booking - other than by using a credit card?
The BA special fares earlier this week struck some observers as being tinged with an element of desperation. Other airlines grudgingly matched them, but with no visible enthusiasm. One such airline was Virgin Atlantic, which seems to have little need of bargain basement fire sales. On Wednesday Virgin proudly announced increases in its service between the US and UK - more flights from Vegas, Dulles, and Boston. They're also adding new flights to the Caribbean and to Nigeria.
Quick question - which is the more fuel efficient method of transportation - bus or car? No; you're wrong! If you're like me, you'd have said 'Bus, of course, everyone knows that!'. A new post from Chuck R on the web site's train forum points readers to a fascinating table of fuel efficiencies published by the Bureau of Transportation Statistics, showing efficiency data dating back to 1960 for planes, trains, automobiles, buses and bikes. Trains are the most fuel efficient, but since 1990, cars are better than buses. Amazing, but apparently true.
Bankruptcy Court Judge Eugene Wedoff is overseeing UA's Chapter 11 reorganisation. In approving a request by UA for more time to negotiate cheaper leases with its airline lessors, and to keep secret the deals that it can secure, he said - and thereby earned the Quote of the Week in so saying, 'I see no reason to doubt the business judgment of UAL'. Some people might suggest to Judge Wedoff the very fact that UA is in bankruptcy casts doubt on UA's business judgment.
UA is pressing on with its planning for a new low cost 'airline within an airline' although its pilots are far from supportive. This week's Forbes has an article titled 'Deathwatch' that leverages the pilot's opposition to a new low cost subsidiary (low cost also means low pilot wages) into the possibility that United will not emerge successfully from bankruptcy. Worth the hassle of free registration to the Forbes website to read.
And American is now making 'airline within an airline' noises too - a far from new (and far from successful!) concept, but one that suddenly seems to have become all the rage. Will someone explain to me why a loss making airline thinks it better to create a profitable subsidiary rather than transform its entire operation to this new profitable basis?
It's not only airlines that are filing Chapter 11 these days. 147 year old Rand McNally, the world's largest seller of maps, filed for Chapter 11 on Tuesday. The bankruptcy is designed to erase most of Rand McNally's debt and allow the company to better compete with online mapping providers such as MapQuest. What with online mapping, CDrom maps, and my GPS unit, it is a long time since I last bought anything from Rand McNally.
Reader Ken from Geneva corrects last week's story about the mouse in the Swiss Airlines plane. The plane was an Airbus A330, not a 747. Ken adds 'I recall an almost identical Swissair incident involving a mouse on an MD-11 perhaps three years ago. It grounded the aircraft at Zurich for 2 or 3 days, with the same method used to put it out of action.'
Australian reader Chris wrote in about last week's table analyzing airline operating costs and yields. He offered the comment 'it seems airlines everywhere need to fill the Chasm between CASM and RASM'.
And reader Sonya sensibly wondered how it was that Jan managed to have $11,000 taken out of her bank account that she didn't even have. That's a good question and it highlights the danger of a bank service offered 'for your protection'. Jan had 'overdraft protection' on her account such that if the account was overdrawn, the bank would automatically take money from her credit card to cover the overdraft.
It was only when the bank had maxed out Jan's credit card that she found out what was happening. I now hear that the bank isn't being 100% cooperative about refunding Jan the money, and it seems to me that one of the morals of this horror story is not to have overdraft 'protection' on your checking account!
The US Department of State has been unleashing a steady stream of depressing travel warnings about travel to other countries, including a recent global warning against traveling to any foreign countries at all. And now, to underscore what we all sense, the US itself is the subject of a travel advisory by another country. Australia's Department of Foreign Affairs issued a travel advisory for Australians traveling in the U.S. advising them to be especially alert to their own security and to monitor local developments and news broadcasts carefully and to follow the advice of local authorities. It is strange and sad to read the words usually used in conjunction with lawless and unpleasant third world countries now being used about ourselves.
All joking aside, I truly do have a question that I'd love answered - once we've used our duct tape and plastic sheeting to hermetically seal us in a room and to safely keep out any nuclear, biological or chemical threat, what do we breathe? Where do we get fresh air from (once we've exhausted the limited air in the room itself)? Seriously - if we seal a room to keep out the smallest molecules of poison gas and bacteria, how does the air get in?
This Week's Security Horror Story : Last week's horror story told the tale of Courtney Love who was arrested after becoming abusive and obstructive on a Virgin Atlantic flight to London. Our story last week concluded with her being escorted off the plane, not in handcuffs, but with two policemen walking protectively alongside her as she smiled to the cameras.
What do you think happened next? Well, normally, of course any such person would be arrested, imprisoned, charged with serious federal offences, and possibly imprisoned. In addition the airline that such a person misbehaved on would probably ban them for life, and so too might associated airports. Sadly, the truth is stranger than fiction.
Thanks to reader Jose for passing on the ending to this strange tale. After being spoken to at the police station, police released her with no charges being laid, just an oral warning. A couple of days later she meets Virgin's Chairman Sir Richard Branson at a party. Love claims that they got on so well together that Sir Richard offered her four free first class tickets to use on future flights with Virgin! Sir Richard said 'Virgin Atlantic was built thanks to the rock industry so I like to think we are a bit more understanding than most airlines' and added that they are looking forward to flying her back to Los Angeles. 'Perhaps Virgin's new slogan should be that "Rock stars swear by us",' he joked.
Love also said 'I have been flying British Airways for a long time and I will continue to do so. This is my second time on Virgin and my first time wasn't so great either'. I doubt that BA - and all their first class non-rock industry passengers - are beside themselves with enthusiasm at the thought of having her back on board their planes again.
Could this be a new strategy to get free tickets from an airline? Anyone else brave enough to try it?
The FAA is commendably playing hardball - a game it has little experience playing - over the deadline for cockpit door strengthening. Would you be surprised to learn that two airlines (AA and AirTran) asked for an extension to the April 9 deadline for reinforcing their cockpit doors (19 months after Sept 11, and you'd think that AA, of all airlines, would have been motivated to strengthen their doors in double quick time). American asked for a further three months to complete its program, blaming delays on the part of Airbus. The FAA had insisted that the April 9 deadline was a firm deadline way back in August last year and now is refusing to allow planes that lack the stronger doors to fly. More strength to it for sticking to its guns, and shame on AA and AirTran.
Reader Mike points out a novel approach to customer service at the Tennessee Tri-Cities Regional Airport. Passengers that are asked to remove their shoes when going through security will be given a free pair of socks in return. Airport marketing director Melissa Thomas says that her small airport can offer customer service that bigger airports can't, and the free socks are a thank you to affected travelers.
Are you looking for the ultimate destination for a company conference or sales incentive program?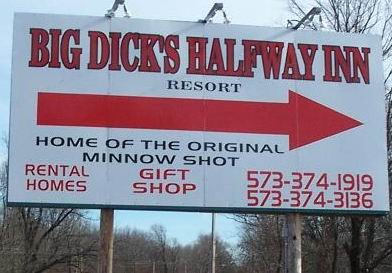 The entire country of Liechtenstein is offering itself out for hire. allowing corporations to symbolically take over the country (pop 33,000) for special events.
Or, if you're thinking of hosting an event on a slightly smaller scale, maybe this place would be memorable? Reader Tom admits to being fascinated by the property being promoted on this billboard. Originally included in a 'I can't believe this sign' joking email, he checked and the place actually truly does exist, in Gravois Mills, MO.
Until next week, please enjoy safe travels.