Good morning. Last week's newsletter 'feature' provoked so much favorable comment (thank you!) that I have slightly rewritten it (updating it to reflect another week of airline foolish actions such as the appalling nonsense from US Airways) and am now releasing it as this week's public column. And for those of you that want to print it out to send to clients, friends, politicians, or whoever, here it also is as a word document.

This Week's Column : The Airlines' Fatal Mistake : With an ineptness that only airline executives can achieve, the airlines are adopting the totally wrong strategy to reverse their present death spiral. And, inevitably, the main victims of their errors are us, their long suffering customers. Here, in simple language - intended to be understood even by airline executives - is an analysis of what went wrong and what needs to be corrected.

So what's with the increasing airline amalgamation? Conventional wisdom has it that the major airlines need to get bigger in order to survive. But am I the only one to notice that the bigger the airline, the bigger the loss! While US Airways and United press their suit with the DoT, and Northwest, Delta and Continental also seek permission to create a ménage a trois, how is it that small airlines like Southwest, Jet Blue, or even Alaska Airlines seem to survive without the need to merge themselves into huge big corporate blobs?

Two comments about this : First, don't believe for an instant that bigger airlines = better airlines. A bigger airline is unlikely to bring any advantages to you, its customers, and is equally unlikely to be any more sensitive to service and quality issues. Second, this concept should be appended to this week's column because it is another example of the airlines focusing on the wrong issue. The key to their survival is in improving service and product value, not in increasing size!

Meanwhile, instead of seeing many airlines reduce themselves down to fewer and fewer brands and choices, exactly the opposite trend is occurring north of our border. Air Canada keeps launching new brands! In addition to its own major Air Canada brand, it now also has Tango (a no-frills discount carrier), Jazz (its regional feeder subsidiary), and a new brand, Zip, which will be based in Calgary and is designed to compete against WestJet Airlines. Wow - four brands, one airline - I wonder if they 'code-share'!

US Airways justified its new policy that most of their fares will be both non-refundable and non changeable by comparing an airline ticket to a theatre ticket. A spokesman explained 'This change makes purchasing airline tickets like many other products that people buy for a specific period of time such as Broadway shows and sporting events - where if you miss your event, your ticket is not good for the next day.'

But - ooops. US Airways apparently forgot about one other aspect of show tickets. They are transferable. If you can't go to the show, you can give (or sell) the ticket to anyone else. So if US Airways wants to copy the show ticket model, fairness demands that they allow them to be transferable to anyone.

I flew down to Las Vegas for the weekend with Alaska Airlines. No line for check in, no line to go through security - was at the gate no more than ten minutes after arriving in the terminal! And I was only selected for random searching once rather than both ways ☺. So why am I so upset about the experience? Because Alaska told me I had to turn up at least two hours prior to allow time for these procedures. The loss of billable time that an extra - and totally unnecessary frustrating hour and a half wasted in an uncomfortable airport represented to the two of us was vastly more than the cost of the air ticket.

Here's a mini Vegas trip report :
Taxis from the airport to the Strip hotels cost about $17-20 if via surface streets and $20-25 if via the freeway (faster but longer). Limos are about $30 (including a free drink or two) and can be hailed from the airport without advance reservations - there's a limo line same as a taxi line. Treat yourself, take a limo. Alternatively, the airport shuttle bus costs $4.25.

Don't, don't, don't, ever think about staying at the 'New' Frontier Hotel (I only stayed there because that was where the conference was located). $1 for a local call, $2 for a 'free' (800) call, and a hidden $3 per day energy surcharge. Plus they have deliberately blocked the local phone numbers for my ISP so I had to both pay the hotel $2 per call and the ISP a $6/hr surcharge for (800) access. Sullen staff, long lines to check in or out, a depressing gaming floor, insufficient very slow lifts, and bland drab hotel rooms - I was in a new suite that already had the bathroom fittings decaying away. Spend a few more dollars and stay somewhere nice!

The dinner buffet at the Rio remains, without a doubt, the most extravagant buffet in town. Highly recommended. But if you want to try something different, go to Yolie's Brazilian Steakhouse and Lounge for an incredible meal featuring seven different types of barbequed meats (all you can eat, too!).

The lions were being fed at the MGM Grand's Lion exhibit between 6.45pm and 7.15pm when we visited. This is compelling - a definite must see. Rather like the glass tubes through aquariums, you travel through a glass tunnel through the enclosure. Lions can be alongside, beneath your feet, or - for a while in our case - directly above you, on top of the glass roof!

The David Copperfield magic show at the MGM Grand ($97/ticket) will leave you feeling amazed, slightly cheated (by some of the tricks that you just knew to be impossible like transporting himself allegedly to Bali and back again) and entertained. The Penn and Teller magic show at the Rio ($55/ticket) will leave you feeling more amused than amazed (they repeat some of their tricks while revealing how they were done - really fascinating!), and also entertained. And if you want the ultimate in Vegas style ritzy-glitzy ultra-glamorous shows, with a combination of different entertainments (including the sinking of the Titanic!), you can't beat long running Jubilee! at Bally's ($54-70/ticket).

The Wynn Collection of famous paintings is very expensive - the ticket costs $10 and there are only 11 paintings on exhibit!!!

An evening limo ride - a tour of the Strip from one end to the other and then back to the hotel, took 30 minutes and cost $25 (including free drinks). A great way to see the Strip and to treat oneself in the process.
Vegas is definitely an amazing city to visit, and the frenzy of new hotel building seems to be continuing unabated. The massive and nearly new Bellagio resort is planning to add an additional 925 rooms, increasing its size up to 3930 rooms - I believe this may make it the largest hotel in the world. Other exciting plans include closing down the strip to traffic and making it a pedestrian walkway, and with a monorail line in the middle, running all the way from the airport.
But for a very different type of city experience, what greater contrast than London. Two depressing releases came out about London this week. Firstly, a new traffic study, supervised by the Royal Automobile Club, shows that traffic in central London is moving at an average of 2.9 mph (a fast walking pace). Indeed, during the course of the study, a passenger got out of a van on Haymarket (av speed = 1.6 mph), went in to a nearby McDonalds, bought some food, and came out to rejoin his vehicle. In the intervening time, the van had moved only 20 yards! Changes in traffic light patterns and increased bus lanes (at the cost of general traffic lanes) are blamed for these impossible conditions.
And so you might be tempted to take London's famous Underground to get around the City instead. One word : Don't! A new study has shown that conditions on the Underground in summer are now so bad that it would be illegal to transport animals on the Underground (the laws apply only to animals, not people). The Central Line had temperatures of 90.5°, followed by the Picadilly Line at 89.5°, the Jubilee Line at 88°, the Jubilee Line at 87.5° and the Northern Line at 87°. EU Law states that the maximum temperature for the transportation of animals should not exceed 86°. A London Underground spokesman said that there are no laws obliging them to maintain any degree of comfort for passengers, but they are helping customers to make their journeys more comfortable by distributing free bottles of water at some stations and displaying posters with hot weather traveling tips. Ambulances are being sent, on average, twice a week to rescue passengers that collapse with heat exhaustion!
Talking about animals, Air Canada has been sued for $5 million (USD!) for losing a cat. The lawsuit is the largest ever filed over a cat according to the animal rights lawyer who took the case. The suit names Air Canada, Continental Airlines, the firm which unloaded the plane at SFO, and 10 individuals who were agents and employees of the two airlines on the day it vanished. The plaintiffs, living in San Francisco, said their suit was more to draw attention to the problem than for the money - at least 5,000 animals are either lost or killed by the airline industry each year. If a pet is killed in transit the airline needs only to compensate the owners at the rate of $14 a pound!!!
Are you wondering what might happen to your frequent flier miles if US Airways or United go bankrupt? Read Tim Winship's excellent article on his Frequentflier.com website.
The repercussions of Southwest's reduction of their full fare levels down to no more than $299 each way were quick in coming. Predictably the major airlines matched, but only on routes where they are actively competing against Southwest. But doesn't the major airlines' seeming ability to immediately slash their full fares (by more than 50% in some cases) give lie to their stated claims about needing to increase their fares? Interestingly, Southwest predicts that the impact of this 25% discount on their full fares will be - wait for it - an increase in revenues of up to $20 million annually! Is Southwest now starting to lunge at the majors' jugular vein - their high yielding business travelers? Quite possibly so.
Have you heard about the modern crime of identity theft? Apparently Lufthansa never has. Thanks to reader Peter (and Susan) for pointing out that Lufthansa employed a group of prisoners to process paperwork, and now finds that these prisoners have been using their jobs to steal the personal data of passengers. Data such as credit card numbers, addresses, and in some cases signatures, on celebrities such as model Claudia Schiffer, were sold to Europe's underworld. The details came to light after a local German paper ran a story hinting at the scam.
This Week's Security Horror Story : There was a sting in the tail of the story about the woman arrested at Philadelphia's Airport for having a loaded handgun and spare clip of ammunition in her carryon bag. The first surprise was that the woman had already flown up to PHL from Atlanta, where the weapon had apparently not been detected by security. But the sting in the tail (tale?) was that, yes, in fact the weapon was detected at Atlanta. An X-ray machine attendant spotted a suspicious shape in the bag and called for a hand search of the bag. Her supervisor (no less!) hand searched the bag, but - ooops - failed to notice the handgun or the extra clip of ammo, and so the woman was passed on through! New head of the TSA, retired Coast Guard Admiral James Loy, had this to say about the incident : 'I just simply don't know how the miss occurred, but the procedures were conducted as we would hope they would be, and the officer...was not able to find the weapon in the handbag.' 'The procedures were conducted as we would hope they would be'???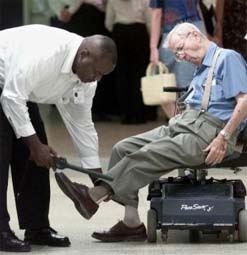 But now for some security good news! The inane two questions that we're always asked about our bags ('Has anyone unknown to you asked you to carry an item on this flight?' and 'Have any of the items you are traveling with been out of your immediate control since the time you packed them?') are being dropped. Unsurprisingly, in the sixteen years that the airlines have been asking these questions, they have never prevented a bombing or hijacking, according to Adm Loy.
And - hold on to your hats, but he also hinted that the TSA may soon 'review' the process of random passenger screening at airport gates. The sheer lunacy of this practice is brilliantly illustrated in this photo of one such random search of a 'potential terrorist'. <sigh>
Received a note from long time reader Jan, in response to the article on security screeners banning toy guns. She was on an international flight in Business Class and noticed a nearby child gleefully showing off a much more fearsome toy - a Nunzilla! This is, she writes, 'a 3 inch high hard plastic model of a nun which – get this – shoots sparks from the mouth when a button is pushed, and makes an appropriately scary noise. But woe betide anyone trying to bring a tiny toy gun, or matches, or a cigarette lighter on board.'
And shoes are in the news again. This time, a passenger on a charter flight from Germany to Kosovo was subdued Thursday after attempting to strangle a flight attendant with a shoelace, an airline official said. A Montenegro Airlines spokesman explained 'Members of Montenegrin police escorting the flight quickly arrested the assailant, and the stewardess suffered only slight injuries'. Oh dear - will shoelaces be forbidden next???
Finally on the security front, readers will know that I regularly worry about the fact that uninspected commercial air cargo remains a massive vulnerability. According to Sen Charles Schumer (D-NY), inspections at JFK, the leading cargo airport in the country, are down 20% from last year and 40% down from 2000. 'If you told the average citizen that we are doing fewer cargo inspections than before Sept. 11, they'd be amazed.' Schumer said.
Lastly this week, a 'Government as good as it gets' award goes to the FAA. This notice was observed on their website 'Due to increased security requirements, access to the public documents room by the general public has been suspended.'
Until next week, please enjoy safe travels. I'm off to Russia on Wednesday next week, but all going well, there will be a newsletter and column next week same as normal.