Good morning, and welcome to March. Curiously, most of the world considers 1 March as the official start of Spring; whereas the US waits until late March to announce this joyous season. I was up in Victoria, BC, for a minibreak last weekend and, as this photo clearly indicates, the spring blossom has already arrived in that part of the world. The Canadian dollar is as cheap as it has ever been, and apart from the locals overly enthusiastically celebrating their win against the US for the Olympic Ice Hockey Gold (!), it was a most pleasant break; best of all, with quick easy crossings over the border in each direction. Which leads to this week's column.

This Week's Column : The 7% Solution : No, not the title of a Sherlock Holmes Story! Instead, I take the mystery out of how to claim back the Canadian 7% GST on your purchases and even your hotel accommodation when visiting Canada.

Last week's column on Amtrak engendered a number of comments in reply, and special thanks to Will for sending this cartoon our way. It nicely sums up the inequity that Amtrak is currently facing. And, in related Amtrak news, a couple of days ago the DoT's Inspector General confirmed that Amtrak is almost entirely out of cash, and if it doesn't get all the funding it has requested, it may have to completely close up all services, everywhere, come 1 October.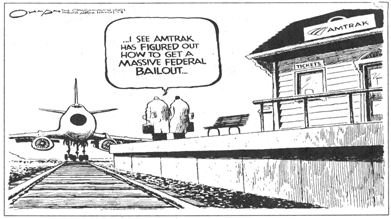 Here's a horror story for those of you considering taking a shuttle bus to the airport. Five men hijacked a bus carrying 18 passengers bound for Kuala Lumpur's International Airport earlier this week. The men chloroformed the passengers at gunpoint, bound and gagged them, and stole all their valuables, then dumped the passengers 20 miles from the airport. Will we soon see metal detector screening before getting on shuttle buses, I wonder!
An interesting case of 'air rage' was reported this week. A passenger on a South African Airways flight become uncontrollable after stealing and drinking a large supply of miniature bottles of spirits. He rampaged throughout the plane, smashed equipment, and even tried to force open an emergency door, while the plane was at 32,000 ft. Eventually crew and passengers subdued him and handcuffed him, then had to leg-cuff him as well. So, what was particularly interesting about this? The offender was, ooops, an off-duty flight attendant! Would this be the wrong time to mention that Delta Airlines is paying for self-defense martial arts courses for its 19,000 flight attendants? Flight attendants will be trained by the same company that trains Federal Air Marshals and BATF agents.
In the 'I'm sorry, I'll read that again' department are two items widely reported last week. The first, generally dated 20 February, is well summarised in this Reuters clip :
The U.S. government has told commercial airlines to close the VIP lines that allow their most valued customers, mainly business travelers, to avoid long waits for security checks at airports, officials said on Wednesday.
The elimination of the perk was ordered by the Transportation Security Administration, which took over airport passenger and baggage screening from the airlines at more than 420 airports this week.
Transportation officials said the decision to do away with VIP lines reflected a move to make the overhaul of airport security equitable since it is now a federal function.
John Magaw, the new TSA director, said last week security demands would be balanced with passenger convenience, but common sense would prevail and not everyone would be happy.
But, no more than two days later, the truth has changed, as reported in this 22 Feb Reuters clip :
Premium business and frequent fliers will still get through security checks faster at many airports after the government clarified an order eliminating VIP service at screening checkpoints.
The Transportation Security Administration, which took over responsibility for passenger and baggage screening from the industry this week, reaffirmed that airlines still control passenger lines and can structure them as they want so long as the flow to security checkpoints is not disrupted.
"We rent the space, we pay for it," Michael Wascom, a spokesman for the Air Transport Association, said about the terminal area in front of security checkpoints. "There was some misinterpretation."
James Mitchell, a TSA spokesman, said there "might have been some confusion" when the order was communicated verbally to airport personnel, but it has now been clarified. He also said the overall policy has not been changed.
While the separate screening checkpoints will not be back, officials said the airlines can continue to set up additional lines for their top customers where possible and as long as they do not impact security operations.
In other words, all passengers go through the same security screening process, but some passengers get to wait in shorter lines than others!
I decided to go to Canada for a short break because I refused to suffer the dreadful experience that flying anywhere in the US these days randomly threatens us all. Apparently I'm not the only one. For the last four weeks, petrol consumption is up 2.5% on the same time last year, while jet fuel consumption is down 9%. We're still traveling, we're just doing more of it by car.
Here is an idea whose time has come. The Four Points Hotel at Los Angeles International Airport now allows guests to check-in or out whenever they want. The hotel launched its "24/24" program, allowing guests to check-in at any time, day or night, and keep their room for a full 24 hours. Customers must provide the hotel with arrival and departure time in advance and book rooms costing $95 or more.
And in other hotel news, at the recent Business Travelers Awards in London, the readers of Business Travel UK voted Sheraton "the best business hotel worldwide" for the tenth consecutive year. The Starwood Preferred Guest was also acknowledged as "the best loyalty program worldwide" for the second time since the category was created in 2000.
It is not only pilots that can have unofficial but apparent 'sick outs'. A 400 mile corridor of airspace across England and the North Sea was closed for nine hours both Saturday and Sunday night after one air traffic controller called in sick. The National Air Traffic Service in Britain could not find a controller to take over for the sick controller. Morale among the controllers is so bad that no one would volunteer to fill the time gap.
This week's security horror story : The controversial Winter Olympics ended in disarray with 2000-3000 departing fans needing to be rescreened after a luggage screening machine 'malfunctioned'. Still, they got off lightly. On Thursday, 325 flights were delayed and an unspecified number passengers inconvenienced at LAX (the official report said 'hundreds' but if you figure on between 50-300 passengers per flight, the actual count is probably more like 50,000 passengers, but nobody wants you to know this!) due to a metal detector 'not functioning properly'. Five terminals had to be evacuated during the peak morning period.
You might wonder 'what does 'not functioning properly' mean? An earlier and unconfirmed report described the LAX 'malfunction' as being that the machine was simply not turned on!
Lastly, this week's 'Wow, That's Impressive' award goes to the Seattle Post Intelligencer for its article headline 'Quieter, faster Boeing 747 is in the works'. Now you need to remember that Seattle (my home town) is right in the heart of Boeing territory, and so it is reasonable to expect a certain amount of favorable press coverage. But, if you choose to read the article, you'll discover that 'faster' means an increase in cruising speed from the 567 mph of the current 747-400 to 570 mph in the new 747-400XQLR. Let's see, on a ten hour flight from the US to Europe, that would save approximately three minutes!!! (To be fair, the other part of the headline about the plane being quieter is valid.)
Until next week, please enjoy safe travels