Another week of mixed messages from the travel industry. Let's start with the positive news first. Continuing the trend in Europe whereby budget airlines are winning at the expense of the higher cost traditional carriers, British low cost carrier Go said its passenger traffic rose by 57 percent during December compared with the same month a year earlier, with a 70.5% load factor (also up on December 2000). Go was formerly owned by British Airways, who must surely now be regretting its sale!

Some bad news has been obvious for a very long time, and Boeing has now confirmed its dreadfully disappointing sales for 2001, with a staggering 45% drop in new aircraft orders in 2001 compared to 2000. Although it delivered 527 planes this year, it expects that number to fall to somewhere between 350 and 400 in 2002. Meanwhile, Airbus seems to be continuing its amazing success in the world airplane market - I'm sure many readers can remember, as I can, when an Airbus plane was an unusual sight in North American skies, and now they are increasingly commonplace. And while Airbus marches on with its plans for the A380 super-jumbo, Boeing points to the 737 - a plane that has been around for 37 years - as its best selling product. <sigh>

Northwest announced an interesting promotion earlier this week - allowing you to buy frequent flier miles to make up the necessary number for an award ticket. The good news - the miles are costing less than 2c a mile. The bad news - the awards are only for coach class travel, and, as such, don't present as good value at all. Quick rule of thumb - frequent flier miles are great value for business and first class travel, but bad value for coach class travel. Recommendation - don't take advantage of this offer.

Last week's column about Xray machines and mail sanitizing had an interesting postscript this week in this Yahoo News article. These issues are real (one reader wrote in refusing to believe me, but declined to have his email posted in public for others to see). I also mentioned last week about the disgraceful delay in getting the new head of the new Transportation Security Adminstration confirmed. Perhaps in response to my article (!) President Bush took urgency on the measure and bypassed the stonewalling Senate and directly appointed John Magaw to the position. Mr Magaw has an impressive background - and a tough future ahead of him. Let's all wish him well.

This week's Lead Story : Close Encounters of the Unpleasant Kind : Coach class seats seem to be getting smaller and smaller. Here's a guide to what's involved in determining which seats are best, a cautionary note on the dangers of relying solely on seat pitch information, and an accolade to the US carrier with consistently best coach class seating.

This week's prize for the greatest public display of incompetence : FAA Administrator Jane Garvey said Friday that she didn't know whether stronger security measures, in place since the September hijackings and attacks, would interfere with efforts to reduce flight delays. Ummm, Jane, did anyone mention to you that in just November and December alone, your own FAA, which you head, ordered 30 airport terminals or concourses evacuated because of potential security breaches, which resulted in 1,180 delayed flights, 464 canceled flights and 15 flights being diverted? In addition, passengers on 434 flights had to pass through airport checkpoints a second time because of improper screening. In total, for valid reasons or not, your stronger security measures caused 2093 extra delayed flights in just two months.

The lunacy continues, but we - as passengers - continue to get better at controlling the lunatics. On 7 January a flight was disrupted by a passenger who wielded his shoe as a weapon (!), punched a flight attendant in the head and opened the plane's rear door. The plane was just starting to push back from the gate at LAX at the time, and no-one was hurt. As for the 6'2" 210lb man, two other passengers quickly 'subdued him'! Well done to the two other passengers.

Which leads me to a very thoughtful article about the role of flight attendants in airplane security that was provided by Tim Winship, Editor/Publisher of FrequentFlier.com. It doesn't appear on his site, so I'm printing it here. This is an issue we should all support.

And, lastly, this week's prize for - well, not sure what you'd call it! This picture shows a KAL freighter that was unloaded in such an uneven manner that it tipped up on its tail at Sydney airport, just a couple of days ago.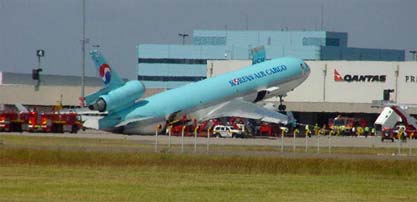 Until next week, please enjoy safe travels.....